Here we will see the comparison among best domain registrar to find the best one for you. I have already covered few of the topics regarding domain name and registration in my previous post, For newbies I will just explain in brief about my previous post in order to drive it in a flow. In my previous post I discussed about Domain name, how domain name plays a key role in website's popularity and about domain registration process with Godaddy. Find the same at how to register domain name for a website.  Now Let's start with the main topic
Best Domain Registrars By Total Domain:
First we will go through the below chart, which will give a idea of market share and Domains count and later I will compare many others based on price/cost-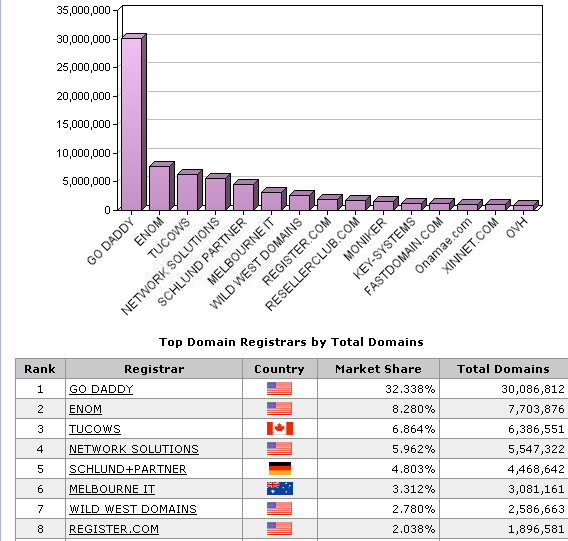 The above snapshot I took from a trusted website [ www.webhosting.info] while doing research over internet regarding this topic.
As we all know that domain must be associated with some suffixes for example suffix for my website is .com. You may find many types of domain name available such as .com, .net, .org, .biz, .in, .us etc during registration.
Importance of com Domain: There is a chance that if you search for some domain which is already existing then in that case Domain registrar may suggest you the same domain name with .net, .in etc. type. Don't get confused. I suggest you to go for .com only. Other types may be cheap when compared to this but the problem is if you do branding of your website, suppose you have a xyz website with .net suffix and you tell to your friend that you have a website name xyz. The person may go and check the same website with .com, which is not the one, you told him to visit and he may endup at your competitors website. Generally people don't remember DOT suffix and always tries with .com so better option is to go with .com suffix. If your content is country specific then you can go for other DOT suffixes such as (.us for United States .in for India etc.)
You can easily compare and see that the godaddy is one of the best domain registrars, which  holds major part of Market share and total number of domains. It is one of the best registrar.
Domain Cost For Five Top Domain Registrars:
1) Namecheap.com: visit at http://www.namecheap.com
Cost: For .com $9.69/year, for .net $9.69/year and for .org $9.69/year
2) GoDaddy.com: Visit at www.godaddy.com
Cost: For .com $10.69/year, for .net $8.99/year and for .org $14.99/year
3) RegFly.com: Visit at www.regfly.com
Cost: For .com $9.99/year, for .net $9.99/year and for .org $9.99/year
4) NetworkSolutions.com:
Cost: For .com $34.99/year, for .net $34.99/year and for .org $34.99/year
5) 1and1.com:
Cost: For .com $8.99/year, for .net $8.99/year and for .org $8.99/year
I have provided the info about price and popularity. Choice is up to you and you can easily choose best domain registrars as per your need. I prefer .com domain , however if your content is for specified group of peoples or for a separate region, you may also go others. After reading this you must have selected the best domain registrar of your choice, if you want to read about domain registration process with godaddy, you can read my previous article at Domain registration process.
If anyone has more details and suggestion regarding the above post then you can leave a comment below, you can also get in touch with us at contact-us section of our website. Happy reading!