Every webmaster wants to hit the top page of Google search results, however the question comes how? There are many factors which decides it, One of the main factor is keyword density and in this article, I will discuss about it. We will also discuss  how to check keyword density using keyword density checker.
This post is a part of on page seo, if you wish you can also refer below posts regarding the same-
Keyword density (KD):
It is the percentage of times a keyword or phrase appears on a web page, compared to the total number of words on the page. In the context of search engine optimization, keyword density can be used as a factor in determining, whether a web page is relevant to a specified keyword or keyword phrase.
For example: There is an article about SEO and out of 1000 words of my article, 100 words are SEO, which means the webpage's density for keyword SEO is 10%. (Note: higher keyword density doesn't mean that the webpage will come up on the top, you must ignore keyword stuffing, otherwise Google bot may flag webpage as spam, as per most of the webmasters ideal keyword density is 1-4%)
Why do I need to take care of it?
Let me explain this with an example, suppose you wrote a post about Apple, if you didn't use word-Apple more than once then how do Google crawler understand that the page is about Apple. If user will be performing a search on keyword Apple, your webpage would never hit first page because as per Google your webpage is not about Apple. Post panda & penguin update the most important seo term which comes into picture is LSI keywords. Read my post about role of LSI keywords.
Why do I need to check keyword density?
Most of you would be thinking that, its an easy calculation, why do I need a tool for that? I would say, determining KD  for a single word is easy. However if you are targeting for a key phrase then you will be needing a tool/plugin for sure, because in that case keyword density needs to consider key-phrase length.
Is there any free keyword density checker wordpress plugin?
Yes, a free keyword density checker wordpress plugin can solve all your problems, more over you need not to do anything, just activate the plugin and you will be able to see the statistics, just below your post editor as shown in the below screenshot-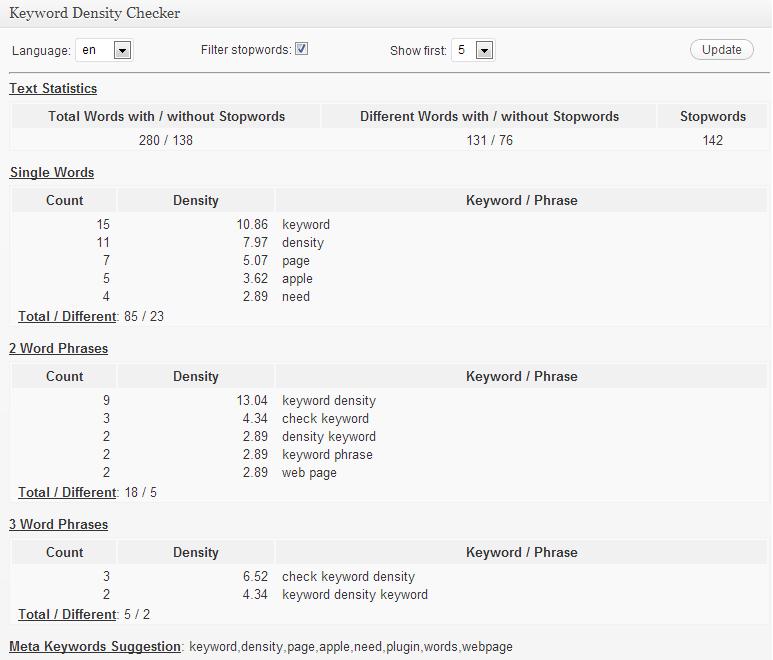 I took the above screenshot, while writing this post. I need not to say anything, you can very well see that this plugin is very useful. It shows density, up to 3 word phrases. You can check keyword density and optimize post very well by using this plugin. Are you using this plugin? Please share your experience with this keyword density checker wordpress plugin and let others know about it.
If you have any questions regarding the topic, feel free to drop any comment. I would love to answer all your questions.
If you like the post and wants to stay in touch then you can join us on Facebook & Google plus.