Google+, Facebook and Twitter are the top most sites when it comes to user engagement and content sharing on social networking sites. Since Google is one of the widely used search engine and Google+ belongs to them, it is must for a webmaster to have a Google+ profile. If you have a Google+ profile then you can easily setup Google+ badges and Google+ authorship in WordPress
What is Google+ authorship?
Are you still wondering what is it? have a look at the below screenshot from Google search results page –

Once your Google+ authorship is verified, the search results for your website would show the author information such as author's name, author's Google+ profile picture and followers on Google+. Case study's shows that implementing Google+ authorship on your blog can increase the traffic by 150%. This is because users are most likely to click on search results with verified authorship compared to the results with no markup. It increases the CTR (click through rate).
How to Set Up Google+ authorship in WordPress?
Step 1: Link to your Google+ profile page from your WordPress site
First thing you need to do is to have a link pointing to your Google+ profile page from your WordPress blog. For this, add the below line of code into your theme's header.php file. Note: Replace the profile page link with your own link!!
<link rel="author" href="https://plus.google.com/100947133454111920684/posts" />
Make sure to have a rel="author" in the code as this is what gonna represent the profile's owner as the author of the content. The above is a manual way of doing it.
However, there are certain following cases, wherein you may not want to manually add the above code to your theme –
You are maintaining multi-author site (Multiple users contributes to your site).
You do not want to edit the theme's file manually.
In such cases, you can use plugins like Google+ authorship, Google author link, WordPress SEO by yoast etc. to have the above task done automatically. These WordPress plugins are especially useful for multiple author blog. Even though you have these plugins installed on your blog, you must have to finish step 2 to complete the process of implementing Google authorship.
Step 2: Have a link back to your website from Google+ profile page
Go to Contributor to section of your profile page and click  "Add custom link", provide the website's link and details then click save. That's it you have successfully added the verified Google+ authorship markup in your WordPress site.
Step 3: Test whether everything Setup as expected
Once you are done with the above mentioned steps, you may need to verify whether Google is pulling the right information based on the markup. For that you can visit Google structured data testing tool and enter any webpage/post link of your website, click preview. If everything is setup correctly then you would be able to see a result like the below one –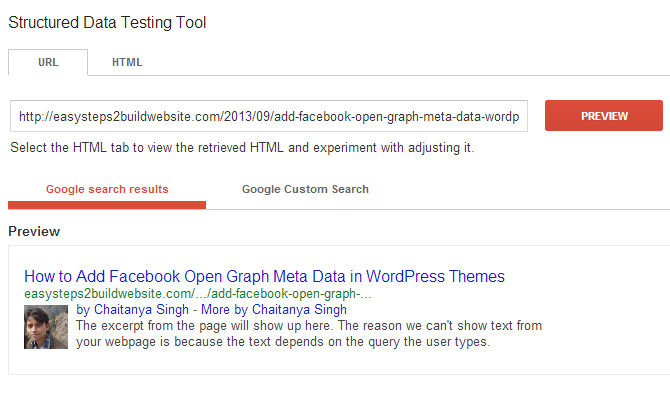 Conclusion
Implementing Google+ authorship for WordPress is damn easy. It is good for website's traffic so every webmaster should give it a try. If you like the tutorial then you can refer other related guides such as implementation of Google plus comments system for WordPress and adding Google+ button to a website.
Reference
https://support.google.com/webmasters/answer/1408986?hl=en
Let us know if you need any assistance while going through the above mentioned steps.