What is a permalink?
It's a permanent link to the page/post.
In WordPress, by default it is setup as: https://beginnersbook.com/?p=111
Why it's importance?
SEO benefits – The target keyword should be present in permalink. Other advantage is that, it makes the users navigation easy if configured properly, which is also a plus point in terms of SEO.
In short the default WordPress permalink structure is not seo friendly, you have change it in order to make it.
Common mistake we do when we just setup a website on WordPress
Generally, when we start blogging, we don't have enough knowledge of SEO and that's the reason, we always end up in having the default permalink, which is not at all seo friendly. The following are the few disadvantages of having default permalink:
No keyword in the permalink so not a search engine optimized url.
Lack of user-friendly site navigation. Just by seeing the link, user cannot determine the hierarchy, possible loss of traffic too.
Possibilities of duplicate content – when more than one permalinks are pointing to the same content.
WordPress Permalinks settings
In WordPress dashboard, you can find settings for permalink structure.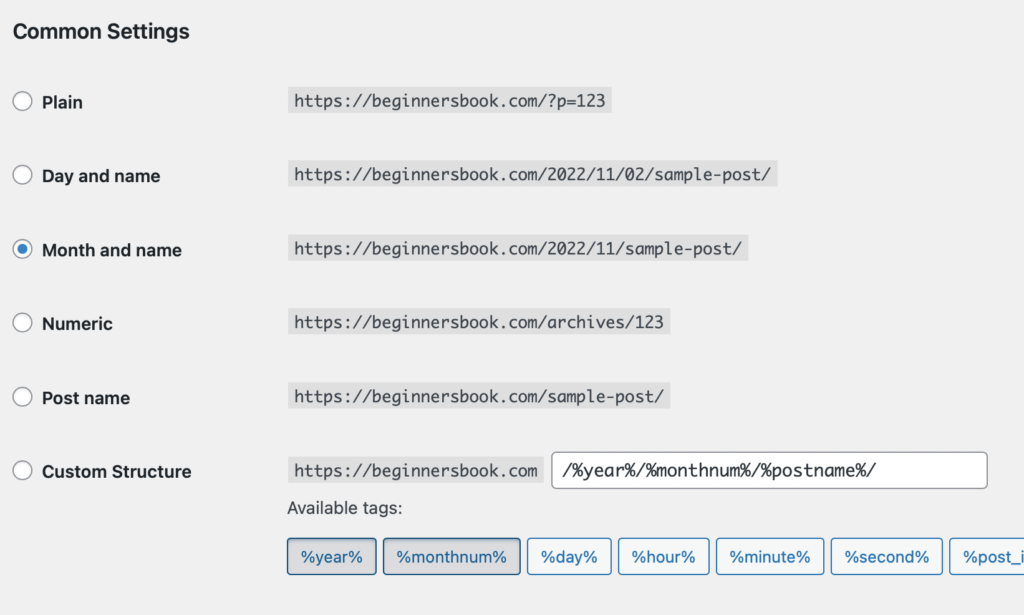 Best permalink structure out of above ones for SEO?
As per Yoast the following two permalink structures  can be a good option for you, he has also given various explanations on this (Read Yoast's post here: permalink structure). You are the one who can chose best out of the below two based on your need.
a) https://domain.com/%category%/%post-name%/: This makes site navigation easy, use this one if you choose one category per post and have a short and simple category name.
b) https://domain.com/%post-name%/: This is one of the best and most commonly used permalink structure. It makes URL short and simple – Actually this is the which I should have used, when I started the blog L
What's wrong with others permalinks –
1) https://beginnersbook.com/?p=123: Less SEO friendly (No keyword in url), lack of permalink navigation, naked url gives no information about the post/page.
for example – https://beginnersbook.com/seo-guide gives a clue that this post is all about seo but on the other hand if  I have a permalink like https://beginnersbook.com/?p=553, no one can tell what is it all about.
2) https://beginnersbook.com/2013/09/05/sample-post/
OR  https://beginnersbook.com/2013/09/sample-post/: The only issue I see with these is that It gives the information to the user of when the page or post has been published so if they are reading a 2 years old page, since they can judge the page published date by seeing the permalink, they might lose the interest or they may consider that as an outdated post – It totally depends on the type of the website. If you have a news website then such permalinks cannot be a good option for you as nobody wants to read the outdated news.
Can I change my permalink structure after publishing few posts?
Yes, you can change permalink structure at any time but you must setup 301 redirect (it is also known as permanent redirect) in order to redirect users and spiders (avoid SEO loss). Refer the guide: How to change Permalink Structure.
Google's view on this –
As per Google, 301 redirect transfers link juice and all the SEO benefits from old link to new link but I have heard few scary stories of big disasters happened during permalink change.
My opinion on this –
If you have just started out and didn't publish too many post/pages then changing permalink can be a good option for you at this time, considering that the current permalink structure of your blog is not seo friendly.
On the other hand, if you have done so much work already and have hundreds or thousands of pages on your blog then it would be too risky to try this. In that case I would say, either do a full proof re-search and then proceed or stay with the current permalink (if you are getting good traffic with the current structure).
Conclusion:
Always change the default permalink when start up a website on WordPress platform.
Make it more SEO friendly and user-friendly.
Choose the best one as per the need but be careful before changing the structure.
Do setup a proper redirect if you change the permalink.
Recommended Posts