In this article, you will learn how to write a java program to find all subsets of a String. If the number of characters in a given string is n then the number of possible subsets of that string would be: n(n+1)/2. For example: if the length of a string is 4 then the number of subsets would be: 4(4+1)/2 = 10.
A String "TOY" has 3(3+1)/2 = 6 subset strings: "T", "O", "Y", "TO", "OY", "TOY".
Java Program to Find all subsets of a String
Steps followed in the example are:
Find the length of the given string using length() method.
Create a String array to hold all the subsets of the given string, size of the array would be n(n+1)/2.
Inside nested for loop use substring() method to find all the possible subsets of the string. Store them in the array created in the step 2.
loop the array and print all the elements to display all the subsets.
public class JavaExample {
  public static void main(String[] args) {

    String str = "TEXT";
    //finding length of the given string
    int numberOfChar = str.length();
    int temp = 0;
    //If number of characters in a string is n then the
    //possible subsets of that string is n*(n+1)/2
    String subsetArray[] = new String[numberOfChar*(numberOfChar+1)/2];

    for(int i = 0; i < numberOfChar; i++) {
      for(int j = i; j < numberOfChar; j++) {
        subsetArray[temp] = str.substring(i, j+1);
        temp++;
      }
    }

    //Print all the subsets of the given string
    System.out.println("All the possible subsets of the given string: ");
    for(int i = 0; i < subsetArray.length; i++) {
      System.out.println(subsetArray[i]);
    }
  }
}
Output: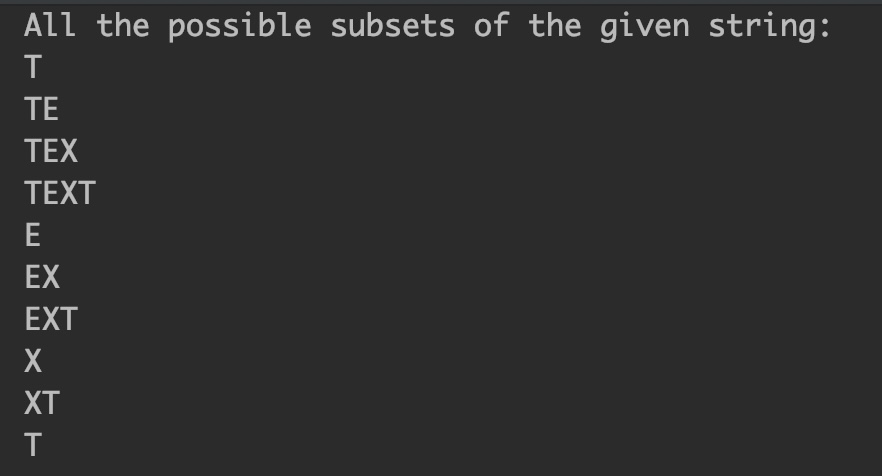 Related Java Examples: