A computer network is a group of computers connected with each other through a transmission medium such as cable, wire etc. In this guide, we will discuss the types of computer networks in detail.
Types of Computer Network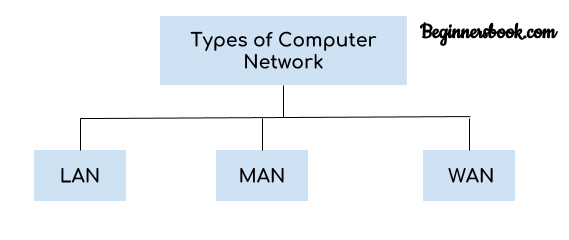 There are mainly three types of computer networks based on their size:
1. Local Area Network (LAN)
2. Metropolitan Area Network (MAN)
3. Wide area network (WAN)
1. Local Area Network (LAN)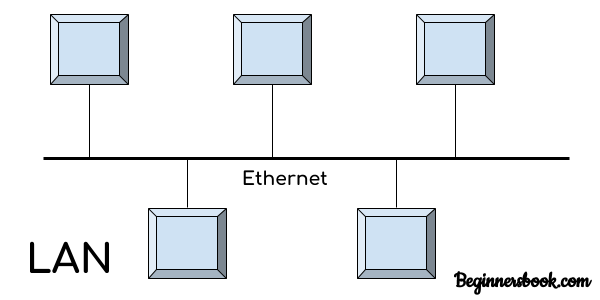 1. Local area network is a group of computers connected with each other in a small places such as school, hospital, apartment etc.
2. LAN is secure because there is no outside connection with the local area network thus the data which is shared is safe on the local area network and can't be accessed outside.
3. LAN due to their small size are considerably faster, their speed can range anywhere from 100 to 100Mbps.
4. LANs are not limited to wire connection, there is a new evolution to the LANs that allows local area network to work on a wireless connection.
2. Metropolitan Area Network (MAN)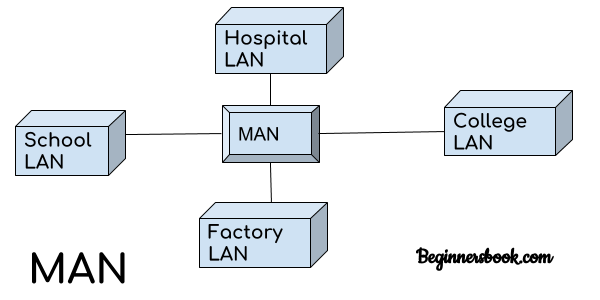 MAN network covers larger area by connections LANs to a larger network of computers. In Metropolitan area network various Local area networks are connected with each other through telephone lines. The size of the Metropolitan area network is larger than LANs and smaller than WANs(wide area networks), a MANs covers the larger area of a city or town.
3. Wide area network (WAN)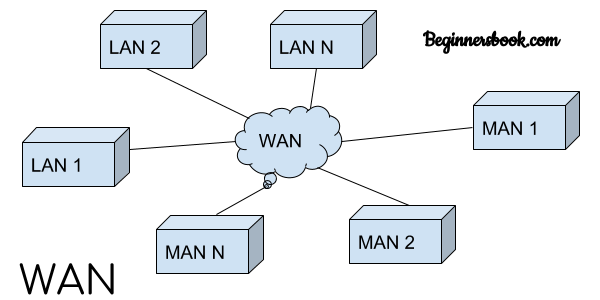 Wide area network provides long distance transmission of data. The size of the WAN is larger than LAN and MAN. A WAN can cover country, continent or even a whole world. Internet connection is an example of WAN. Other examples of WAN are mobile broadband connections such as 3G, 4G etc.
Advantages of WAN:
Centralized infrastructure: One of the main advantage of WAN is the that we do not need to maintain the backup and store data on local system as everything is stored online on a data centre, from where we can access the data through WAN.
Privacy: We can setup the WAN in such a way that it encrypts the data that we share online that way the data is secure and minimises the risk of unauthorized access.
Increased Bandwidth: With the WAN we get to choose the bandwidth based on the need, a large organization can have larger bandwidth that can carry large amount of data faster and efficiently.
Area: A WAN can cover a large area or even a whole world though internet connection thus we can connect with the person in another country through WAN which is not possible is other type of computer networks.
Disadvantages of WAN:
Antivirus: Since our systems are connected with the large amount of systems, there is possibility that we may unknowingly download the virus that can affect our system and become threat to our privacy and may lead to data loss.
Expensive: Cost of installation is very high.
Issue resolution: Issue resolution takes time as the WAN covers large area, it is really difficult to pin point the exact location where the issues raised and causing the problem.
Interconnection of Networks:
We have read LAN, MAN and WAN above, we also talked about internet. You can say that an internet is a combination of LAN, MAN and WAN.