As we have seen in previous tutorials that a pointer can point to a memory location (OR address) of a variable of any data type. In this tutorial we will see how a pointer points to an address of another pointer. Such pointers are known as pointer to pointer OR Double pointers.
How to declare a pointer to Pointer (Or Double Pointer) in C?
int **pr;
There should be two *s before double pointer variable
Consider the below figure and program to understand this concept better –
Diagram –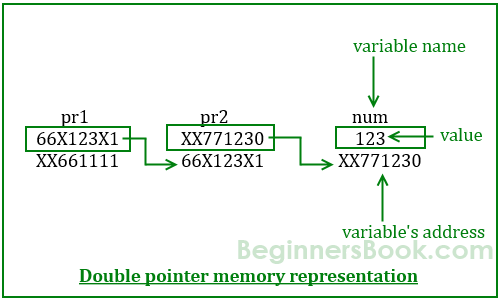 As per the figure, pr2 is a pointer for num (as pr2 is having address of variable num), similarly pr1 is a pointer for another pointer pr1 (as pr1 is having the address of pointer pr2). A pointer which points to another pointer is known as double pointer. In this example pr1 is a double pointer.
Values from above diagram –
Variable num has address: XX771230
Address of Pointer pr1 is: XX661111
Address of Pointer pr2 is: 66X123X1
Here in this example pr1 is a double pointer.
#include <stdio.h>
int main()
{
     int num=123;

     /*Pointer for num*/
     int *pr2;

     /*Double pointer for pr2*/
     int **pr1;

     /* I'm reading the address of variable num and 
      * storing it in pointer pr2*/
     pr2 = #

     /* storing the address of pointer pr2 into another pointer pr1*/
     pr1 = &pr2;

     /* Possible ways to find value of variable num*/
     printf("\n Value of num is: %d", num);
     printf("\n Value of num using pr2 is: %d", *pr2);
     printf("\n Value of num using pr1 is: %d", **pr1);

     /*Possible ways to find address of num*/
     printf("\n Address of num is: %u", &num);
     printf("\n Address of num using pr2 is: %u", pr2);
     printf("\n Address of num using pr1 is: %u", *pr1);

     /*Find value of pointer*/
     printf("\n Value of Pointer pr2 is: %u", pr2);
     printf("\n Value of Pointer pr2 using pr1 is: %u", *pr1);

     /*Ways to find address of pointer*/
     printf("\n Address of Pointer pr2 is:%u",&pr2);
     printf("\n Address of Pointer pr2 using pr1 is:%u",*pr1);

     /*Double pointer value and address*/
     printf("\n Value of Pointer pr1 is:%u",pr1);
     printf("\n Address of Pointer pr1 is:%u",&pr1);

     return 0;
}
Output:
Value of num is: 123
Value of num using pr2 is: 123
Value of num using pr1 is: 123
Address of num is: XX771230
Address of num using pr2 is: XX771230
Address of num using pr1 is: XX771230
Value of Pointer pr2 is: XX771230
Value of Pointer pr2 using pr1 is: XX771230
Address of Pointer pr2 is: 66X123X1
Address of Pointer pr2 using pr1 is: 66X123X1
Value of Pointer pr1 is:  66X123X1
Address of Pointer pr1 is: XX661111
First observe the output, you may find some weird thing happening over here. But below points will help out to clarify few things in a better way –
num ==*pr2==**pr1
&num==pr2==*pr1
&pr2==pr1