Java StringBuilder trimToSize() method is used to reduce the capacity of StringBuilder instance, if possible. This method checks for non-utilized allocated space, it frees up the storage to optimize the buffer size. This method belongs to the StringBuilder class in Java.
The syntax of trimToSize() method is:
sb.trimToSize() //free up non-utilized buffer
Here, sb is an object of StringBuilder class.
trimToSize() Description
public void trimToSize(): It optimizes the buffer memory by reducing the space that is currently allocated to the current StringBuilder instance.
trimToSize() Parameters
It does not take any parameter.
trimToSize() Return Value
The return type of this method is void as it does not return anything.
Example of trimToSize() Method
public class JavaExample {
  public static void main(String[] args) {
    StringBuilder sb = new StringBuilder();
    System.out.println("Default Capacity: "+sb.capacity());

    //append string
    sb.append("BeginnersBook");
    System.out.println("String appended: "+sb);
    
    //cleanup buffer
    sb.trimToSize();
    System.out.println("Capacity after trim: "+sb.capacity());
  }
}
Output: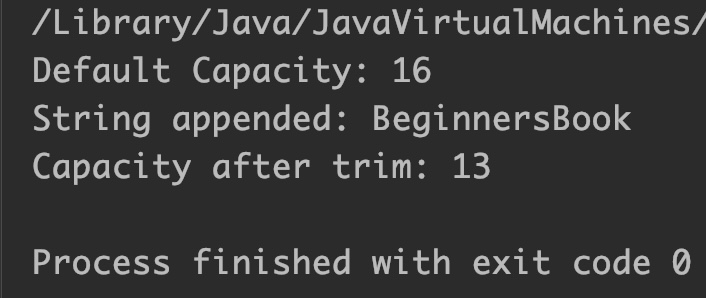 Example 2 of trimToSize() Method
public class JavaExample {
  public static void main(String[] args) {
    StringBuilder sb = new StringBuilder();
    System.out.println("Default Capacity: "+sb.capacity());

    //If current capacity is less than 17 then it will increase
    //old capacity = (new capacity * 2) +2
    sb.ensureCapacity(17); //new = 16*2 +2 =34
    System.out.println("Capacity after ensureCapacity: "+sb.capacity());

    //append string
    sb.append("Welcome");
    System.out.println("String appended: "+sb);

    //cleanup buffer
    sb.trimToSize();
    System.out.println("Capacity after trim: "+sb.capacity());
  }
}
Output:
Recommended Posts